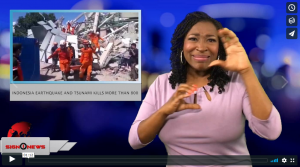 Sign1News delivers news for the deaf community powered by CNN in American Sign Language (ASL).
Last night we reported that 384 people had been killed in Indonesia as a result of a major earthquake and ensuing tsunami.
In less than 24 hours, the death toll has nearly doubled.
Over 800 people have now died and authorities say more bodies could be recovered.
Right after the 7.5 magnitude earthquake struck the island, walls of water engulfed towns, swept away buildings and tossed cars like toys.
Hundreds were badly hurt and at least 17,000 people were left homeless.
Search teams continue to look for victims, many who remain buried under collapsed buildings and homes.