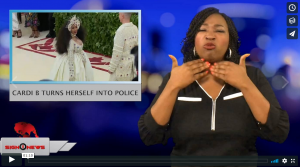 Sign1News delivers news for the deaf community powered by CNN in American Sign Language (ASL).
Transcript
Authorities say rapper Cardi B turned herself into New York police Monday on misdemeanor charges of reckless endangerment and assault.
The charges are a result of an incident at Angel's strip club in New York two months ago.
According to TMZ, two bartenders claim Cardi B ordered an attack on them because she believed her husband, rapper Offset, had an affair with one of them.
The lawyer for the two bartenders says Cardi B even bragged on social media that she orchestrated the attack.
Cardi B was fingerprinted, took a mug shot and left the precinct.
A court date is set for October 29.