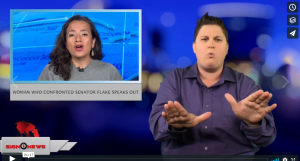 Sign1News delivers news for the deaf community powered by CNN in American Sign Language (ASL).
Transcript
Yesterday we told you about the heated exchange on Capitol Hill as two women cornered Republican Senator Jeff Flake in an elevator and let him have it after they found out he voted in favor of nominating Judge Brett Kavanaugh to the Supreme Court.
One of those women spoke publicly about the incident.
Her name is Ana Maria Archila.
She said she had been coming to the Capitol for seven weeks to protest the nomination of Kavanaugh.
When she heard Senator Flake had voted "yes" Archila said she became enraged and all of the emotions of the past seven weeks came pouring out.
She says she believes Kavanaugh is dangerous for the country, for women's rights and healthcare.
Archila also says she confronted Flake in solidarity with Christine Blasey Ford, the woman accusing Kavanaugh of sexual assault.