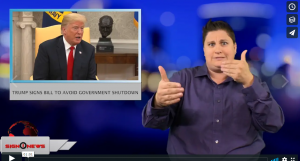 Sign1News delivers news for the deaf community powered by CNN in American Sign Language (ASL).
While all the drama of the Kavanaugh nomination was unfolding on Capitol Hill yesterday, President Trump signed a massive $855 billion spending bill just days before the October 1 deadline.
The bill funds military, opioid prevention programs, the US Labor Department, health and human services and education.
The bill will keep the government open through December 7.
There were some concerns regarding whether the president would signed the bill or not.
In months past, Trump has been very vocal about allowing the government to shut down if there weren't enough funds to support his signature campaign promise of the US-Mexico border wall.