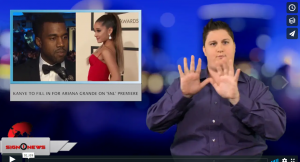 Sign1News delivers news for the deaf community powered by CNN in American Sign Language (ASL).
Saturday Night Live kicks off their 43rd season tonight with host Adam Driver and musical guest Kanye West.
But Yeezy wasn't the show's first choice.
Ariana Grande was supposed to be the musical guest but she dropped out because of emotional reasons.
According to Grande's team, the 25-year-old singer is taking time off to heal and mend.
Her camp did not specify what she is healing from but it's well-known she is distraught over the death of her ex-boyfriend Mac Miller.
He died earlier this month of an apparent drug overdose.
Grande has also said she still has PTSD from the suicide bomb attack that killed 22 people and injured more than 500 at her concert in Manchester, England last May.