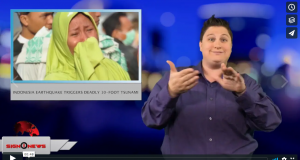 Sign1News delivers news for the deaf community powered by CNN in American Sign Language (ASL).
Transcript
At least 384 people have died and more than 350 are injured following a series of earthquakes and a tsunami that devastated the Indonesian island of Sulawesi.
The 7.5 magnitude earthquake caused a nearly 10-foot tsunami to sweep over the beach.
Thousands of buildings collapsed and evacuations are still underway.
The power is out and phones are down all over the region, including at the main hospital.
The director of the hospital is desperate for any help they can get, calling for tents, supplies and even nurses because authorities expect the death toll to rise.