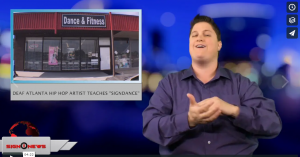 Sign1News delivers news for the deaf community powered by CNN in American Sign Language (ASL).
If you've ever wanted to dance and sign at the same time, a Deaf Atlanta hip-hop artist is ready to teach you how to do it.
Briana "BeBe Beautiful" Johnson says anyone can learn, whether you're hearing or Deaf.
So Sign1News anchor Crystal Cousineau and Multimedia Journalist Martha Anger went to check out BeBe Beautiful's sign-dance class.
BeBe Beautiful's sign-dance class is offered once a month.
The next class is October 20 from 12 to 2 PM and the cost is only $5.00.
For more information just go to www.signdance.eventBright.com.