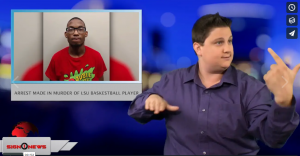 Sign1News delivers news for the deaf community powered by CNN in American Sign Language (ASL).
Transcript
Dyteon Simpson was taken into custody this morning, charged with the shooting death of LSU basketball player Wayde Sims.
Police say a fight broke out between a group of men near Southern University and A&M College around midnight.
Sims stepped in to defend his friend and was shot in the head.
Detectives found a pair of glasses at the scene and traced the DNA back to Simpson.
Police say Simpson confessed to killing Sims.
Sims is charged with 2nd degree murder.