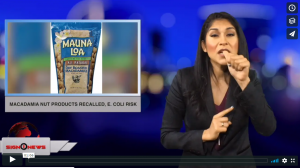 Sign1News delivers news for the deaf community powered by CNN in American Sign Language (ASL).
You may want to check your food pantry.
Some popular macadamia nuts are being recalled over possible E. coli.
This is the "Mauna Loa" brand.
The company is voluntariliy recalling all items produced at its facility in Hawaii after E. coli was found in the drinking water.
All nuts packaged from September 6 to September 21 are affected.
But so far there are no reports of anyone getting sick.
The recall is just a precaution.
Meanwhile the facility is closed as health officials investigate.