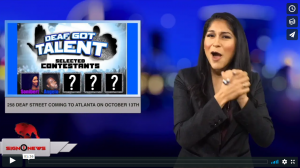 Sign1News delivers news for the deaf community powered by CNN in American Sign Language (ASL).
In three weeks a huge event is coming to Atlanta on Saturday, October 13!
It's called the "258 Deaf Street" festival.
This is a celebration of sign language culture and the various identities within the Deaf and hard of hearing community.
It is a Deaf-friendly event that includes entertainment, activities with cash prizes and the most popular event: the "Deaf Got Talent" competition.
258 Deaf Street just announced that there are available spots for people to showcase their unique talent.
Two of those slots have already been taken by two very talented people that we know well here is Sign1News.
Congratulations to actress Sonibert Woods and performance artist Angelo Butler-Ricks.
We can't wait to see what you have planned.
To purchase tickets go to www.258DeafSt.com and click on the "Purchase Tickets" button.