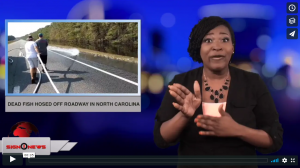 Sign1News delivers news for the deaf community powered by CNN in American Sign Language (ASL).
North Carolina fire crews made a stunning discovery during the cleanup from hurricane Florence: dead fish scattered across the highway.
Officials say the highway is a portion of Interstate 40 that became flooded.
When the water receded, the fish were left stranded by the side of the road.