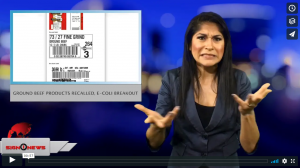 Sign1News delivers news for the deaf community powered by CNN in American Sign Language (ASL).
Transcript
The US Department of Agriculture said Wednesday Cargill Meat Solutions recalled nearly 133,000 pounds of ground chuck because of deadly E. coli bacteria.
Eighteen people who ate the meat became sick and one person died.
The recall meat was produced June 21 and distributed nationwide.
The USDA inspection mark on the package says EST86-R inside.
If you still have ground chuck in your freezer with that mark, you should throw it away or return it to the store.