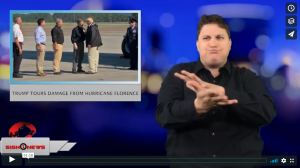 Sign1News delivers news for the deaf community powered by CNN in American Sign Language (ASL).
Transcript
President Trump flew to the Carolinas today to get a firsthand look at the damage left behind by hurricane Florence.
What he saw was mass devastation, people being pulled from life-threatening situations and entire communities completely cut off, taken over by rising floodwaters.
Waters are slowly receding in some places, but in others, like Wilmington and Lumberton, the situation could get worse.
Near Fayetteville, the Cape Fear River quadrupled in depth from 15 to 60 feet.
More than 1,000 flooded roads were closed in North Carolina and 200 in South Carolina, literal road blocks to ongoing recovery efforts and delivering much-needed supplies.
In New Bern, where waters have receded, Trump was able to shake hands with residents and hand out meals to people who pulled up in their cars.