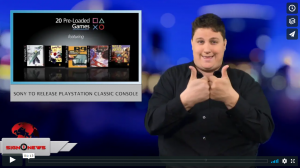 Sign1News delivers news for the deaf community powered by CNN in American Sign Language (ASL).
Transcript
All of you old-school gamers will love this story!
Sony is going back in time with its signature gaming system.
The company is bringing back its original PlayStation but with a twist.
The new miniaturized version will be called PlayStation Classic.
The console will come preloaded with 20 classic titles.
They include fan favorites such as Final Fantasy 7, Jumping Flash and Tekken 3.
PlayStation Classic will go on sale on December 3 and will cost around $100.