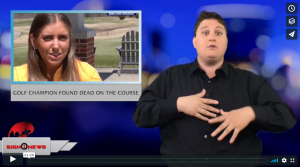 Sign1News delivers news for the deaf community powered by CNN in American Sign Language (ASL).
Transcript
On Monday the body of 22-year-old Iowa State University golfer Celia Barquin was found in a pond at a golf course.
Barquin was golfing alone when someone spotted an unattended golf bag, which led to the discovery of her body.
Court documents say she had been stabbed several times in the upper torso, head and neck.
She had also been sexually assaulted.
Police have charged 22-year-old Daniel Richards with first-degree murder.
Authorities say Richards is homeless and had been living in the woods near the golf course.
Police say when they found Richards, he had fresh scratches on his face, he had a deep cut on his left hand and in his backpack they found bloodied clothes and a knife.
Richards also told someone he had been having urges recently to rape and kill a woman.
A judge set a $5 million cash-only bond for Richards.