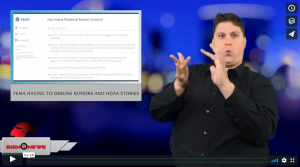 Sign1News delivers news for the deaf community powered by CNN in American Sign Language (ASL).
Transcript
FEMA has once again created a "Rumor Control" section on its website to address numerous false rumors and hoaxes that are floating around.
FEMA officials say they have to open up a rumor control page after every disaster to make sure the correct information gets to the public.
Here are some of the facts that FEMA wants to get out in order to clear up false claims:
The Brunswick nuclear power plant in North Carolina is not in danger due to flooding. Both reactors are safe and stable.
Service animals are being allowed in emergency shelters, however pets are not considered service animals trained to assist someone with a disability.
Beach sand should not be used if sand bag distribution sites are out of sand. Sand at the beach is a vital barrier that acts as a first line of defense against storms.
You can go to www.FEMA.gov\Florence-rumors for the complete rumor control list.