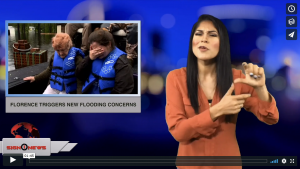 Sign1News delivers news for the deaf community powered by CNN in American Sign Language (ASL).
Transcript
Florence has been downgraded to a tropical depression and has parked itself over the Carolinas.
It is relentlessly pouring on the rain, promising severe flooding from many more days.
The coastal town of Wilmington, North Carolina is so deeply submerged no one can get in.
The roads are impassable.
That also means fuel and other critical supplies can't get in either.
Florence is blamed for at least 14 deaths now.
More than 700,000 people are without power in North and South Carolina.
The Cajun Navy is on the ground and in the water in the Carolinas, helping bring stranded people to safety.
If you're not familiar with the Cajun Navy, it first emerged in 2005 in the aftermath of Hurricane Katrina.
Volunteers bring their fishing boats and airboats to natural disasters and go house to house, transporting anyone they find to higher ground.
People who live near the Carolinas' rising rivers were ordered to evacuate by Sunday afternoon.
But despite the warnings, some people are still choosing to stay and ride it out, fully knowing that the worst is yet to come.