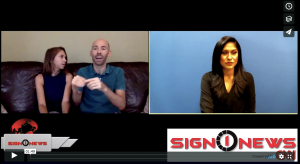 Transcript
An exciting new show is debuting on A&E tomorrow night at 8 PM.
It's called "Deaf Out Loud."
The executive producer is Academy award-winning actress Marlee Matlin.
The show follows three predominantly Deaf families as they raise their children in a hearing world.
Today we got a chance to interview two of the stars of the show, Manny and Sheena Mansfield, on Facebook live.
Here's a short clip from that interview.
I hope people look at the Deaf culture and see and learn about the culture because it is so unique.
I also hope the show leads to discussions about cultural values because there are so many cultures in the world. We want to incorporate those rather than oppress in favor the majority of the culture. Whatever the "majority culture" is.
Whatever that means. Right. Let us, the Deaf culture and Deaf people, define that, not hearing people. I'm really curious what people's comments will be after the show debuts.
You can see the interview in its entirety on a website, our YouTube channel, Facebook and Twitter pages and of course on our Sign1News app.
"Deaf Out Loud" premieres tomorrow night at 8 PM on A&E.
Sign1News delivers news for the deaf community powered by CNN in American Sign Language (ASL).