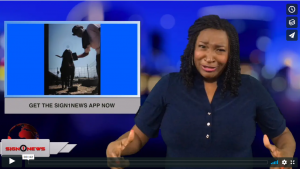 Sign1News delivers news for the deaf community powered by CNN in American Sign Language (ASL).
Transcript
In the past few weeks we have received many selfies you, our Sign1News fans, posing with our new app.
We've seen selfies of adorable children and cute dogs.
But this is a first: @Yaya4685 sent us this selfie of a 300 pound boer goat posing with our app.
Wow!
If you don't have the app yet, it's available to download now in the App store and Google Play store.