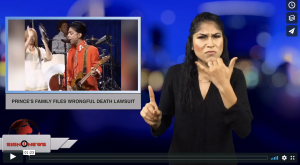 Sign1News delivers news for the deaf community powered by CNN in American Sign Language (ASL).
Transcript
Prince's family is suing the star's former Dr. Michael Schulenberg.
Six of Prince's brothers and sisters filed a wrongful death lawsuit against
The family is also suing Walgreens and several healthcare groups.
They claim all of the defendants had a chance to diagnose and help his
opioid addiction before he died but they failed.
The doctor's attorney says the case has no merit.
In April, Schulenberg agreed to pay a $30,000 fine to settle civil allegations
of prescribing drugs to someone else knowing Prince would take them.
The Carver County District Attorney's Office says Prince died of an
accidental fentanyl overdose in 2016 after taking counterfeit Vicodin pills
that were laced with fentanyl..
The office decided in April not to file any criminal charges.