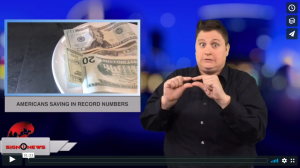 Sign1News delivers news for the deaf community powered by CNN in American Sign Language (ASL).
Transcript
According to a new Bank Rate survey, people are saving money in record numbers.
Twenty-eight percent of employed Americans who were surveyed say they are saving more now than
last year.
Older millennial's age is 28-37 are saving the most for retirement.
Thirty-nine percent of them say they're making saving money a priority.
Bank Rate recommends saving at least 10 percent of your income for retirement.
But if you're struggling to save money, finance experts say there are ways to overcome those
income-related challenges.
Number one: live a more modest life.
This means re-examining your living expenses and how you can lower your bills.
Number two: get a side hustle.
If your primary job doesn't pay enough for you to save, it's time to get a second gig.
Number three: ask for a raise.
If your wages have not gone up in several years, then you should ask for more money.