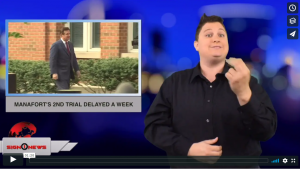 Sign1News delivers news for the deaf community powered by CNN in American Sign Language (ASL).
Transcript
Last week a Virginia jury found President Trump's former campaign chairman Paul Manafort guilty of
tax and bank fraud, as well as hiding foreign accounts.
Today a federal judge in DC delay the start of Manafort's second trial.
The judge moved opening statements and testimony to September 24.
The defense asked for more time to prepare for the second criminal trial against Manafort.
The jury selection will begin on September 17 in Washington, DC.
The proceedings will not be open to the public.
According to the Wall Street Journal, Manafort was looking for a plea deal for his second trial but
talks reportedly broke down over issues raised by special counsel Robert Mueller.