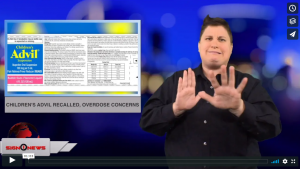 Sign1News delivers news for the deaf community powered by CNN in American Sign Language (ASL).
Transcript
Parents of little ones, listen up!
If you give your kids children's Advil, there's a recall we need to tell you about.
Pfizer is voluntarily recalling the "Suspension Bubblegum" flavor because of a labeling mistake.
The dosage cup is marked in teaspoons but the label on the bottle is marked in milliters.
Parents could accidentally give their child too much medication.
The recall only affects the 4 ounce bottles sold between May and June of this year.
If you have it in your medicine medicine cabinet, returned it to the store for a full refund.