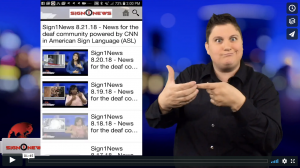 Sign1News delivers news for the deaf community powered by CNN in American Sign Language (ASL).
We have exciting news to share with you.
Sign1News has an app!
That's right – now you can have the top news stories of the day right at your fingertips.
There are alerts for breaking news and live streaming for special events.
There is a location-based directory so no matter where you are in the US or Canada you can find a Deaf school near you.
If you're looking for a specific, just click on the search icon.
And click the "In Case You Missed It" tab (ICYMI) to find those cool, interesting and heartwarming stories that you may have missed.
The Sign1News app is compatible with iPhones and Androids and it's available to download right now in the App store and Google Play store.
You don't have to wait or miss anything anymore.
I have it. Do you?
In fact, if you download the app and post a selfie on our Sign1News Facebook page, we will share your pictures with our worldwide audience during tomorrow night's broadcast.
Have fun with it and be creative! We can't wait to see your selfies.