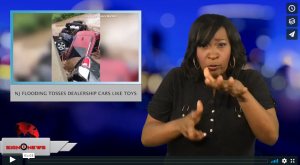 Sign1News delivers news for the deaf community powered by CNN in American Sign Language (ASL).
Transcript
This is incredible video out of Little Falls, New Jersey.
It shows cars being tossed around in a river like toys.
Heavy under storms swept through Saturday and dropped around 5 inches of rain, which cause water to back up quickly.
The Chrysler Jeep Dodge dealership of Little Falls sits near the Peckman River and as floodwaters rose, cars were submerged.
Some were swept into the river.
One tow company owner said more than a dozen vehicles were removed from the water by Sunday morning.