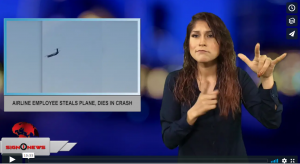 TODAY'S HEADLINES:
-Airline employee steals plane, dies in crash
-Smoke from California wildfires reaching NYC
-Jury awards man $289 Million in weed killer cancer lawsuit
-Republican Chris Collins suspends re-election campaign
-Charlottesville events commemorate riot anniversary
-Update: Whale carrying dead calf for unprecedented length
-McDonald's "McGold Card" contest: Free food for life
Transcript
Hello everyone.
Welcome to Sign1News.
I'm Crystal Cousineau.
Here are your top stories for today.
An incredibly strange story happened in Washington State.
An employee from Alaska airlines stole an empty turboprop plane from Seattle's SeaTac airport Friday night.
The Pierce County Sheriff said the man was a 29-year-old ground service agent.
Once it was determined that the man performed an unauthorized take off, air National Guard military jets were quickly scrambled to fly right behind the stolen plane.
Washington's governor Jay Inslee tweeted that "fighter pilots flew alongside the aircraft and were ready to do whatever was needed to protect citizens."
The 29-year-old man flew the plane for an hour and performed a few aerial maneuvers like barrel rolls, all the while air traffic controllers were trying to talk the man down.
But in the end, the man flying the stolen plane crashed in a wooded area 40 miles from the airport and died.
Authorities are not identifying the man but they say he was suicidal, although authorities didn't provide specific evidence to support that assessment.
The Pierce County Sheriff's office was able to confirm one thing: they say this was not a terrorist incident.
California Governor Jerry Brown has declared a state of emergency for Orange and Riverside counties in Southern California as the Holy fire continues to grow.
Dry conditions and steep terrain have caused the Holy fire to nearly double in size again and is nowhere close to being under control.
Officials say the fire is unstable and residents should be prepared to leave at a moments notice.
The National Weather Service says smoke from the massive California wildfires are spreading all the way to New York City.
Winds are lifting up the smoke and carrying it more than 3,000 miles across the country.
A former school groundskeeper who said he got terminal cancer from the weed killer Roundup has one big court.
A jury awarded DeWayne Johnson $289 million in damages, mostly to punish the agricultural company Monsanto.
Johnson says he applied Monsanto's Roundup weed killer 20 to 30 times a year as a school groundskeeper.
He says that in 2014, he was diagnosed with non-Hodgkin's lymphoma.
Monsanto has long maintained that Roundup does not cause cancer and that regulators help ensure it is safe.
According to CNN, there are more than 800 more patients suing Monsanto, claiming Roundup gave them cancer.
But Johnson's case was the first to go to trial because doctors say he is near death.
Republican Chris Collins suspended his re-election campaign Saturday.
He was indicted on insider trading charges earlier this week.
On Wednesday, federal prosecutors charged Collins, his son and another man with 13 counts of securities fraud, wire fraud and false statements.
The charges stem from an alleged insider trading scheme centered on an Australian pharmaceutical company.
Now Republicans will have to overcome New York's complicated election laws to get Collins off the ballot and replaced him with another candidate before November's midterm elections.
The US attorney's office says Collins faces up to 150 years in prison if convicted on all counts.
Several events took place in Charlottesville, Virginia today to commemorate the one-year anniversary of the violent riots that took place there.
The University of Virginia hosted a prayer breakfast entitled "The Hope That Wummons us: A Morning of Reflection and Renewal."
The event included a moment of silence, the tolling of the University's Chapel bells, performances and poetry readings.
Antifa supporters protested and walked in solidarity of Heather Heyer.
She is the woman who was killed during the riots last year when a suspected neo-Nazi sympathizer rammed a car into a crowd of people protesting the "Unite the Right" rally.
President Trump tweeted: "The riots in Charlottesville a year ago resulted in senseless death and division. We must come together as a nation. I condemn all types of racism and acts of violence. Peace to all Americans."
We have an update to a story we told you about two weeks ago.
It's a picture of a grieving mother orca carrying the body of her dead, newborn calf.
As the dead body begins to sink, the mother orca keeps pushing it up, try to keep it afloat.
Officials at a research center believe it is part of the grieving process.
Now more than two weeks later, the mother whale is still swimming with the dead calf.
The body is now starting to decompose.
Researchers say while they've seen the grieving process before, they've never seen it go on this long.
They say it is heartbreaking to watch but they will not intervene.
They say they will let this mother grieve as long as it takes.
Ever wanted a chance to win free McDonald's food for life?
Well, now is your chance!
McDonald's is rolling out McGold card.
Starting now, customers in the US can compete for a chance to win the card, giving the recipient free McDonald's for.
To compete, customers must download the McDonald's app on their smart phones and place an order via mobile order.
The contest started Friday and runs through August 24.
One entry is allowed per day.
McDonald says it has issued such a card before to a handful of people, but this is the first time the fast food giant has ever given away one.
And those are your top stories for today.
I'm Crystal Cousineau.
Thank you for watching Sign1News.
Remember to like us on Facebook and follow us on Twitter.
Sign1News. Your life. Your language.