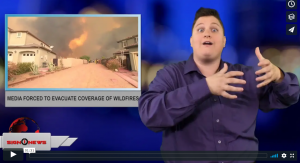 Sign1News delivers news for the deaf community powered by CNN in American Sign Language (ASL).
Transcript
Firefighters continue to battle multiple fires across California and now the governor has declared a state of emergency due to a new blaze, the Holy fire.
This story is proof of just how fast wildfires move.
On Thursday a CNN crew was in Lake Elsinore with other media covering the Holy fire when they were forced to quickly evacuate the area between live shots.
The flames had reached homes in the neighborhood.
Fire crews on scene make sure the media was moved to a safer area as supertanker jets flew close overhead spreading fire retardant.
The Holy fire started Monday and scorched more than 10,000 acres.
Fifty-one-year-old Forrest Clark has been charged with starting the Holy fire.
He allegedly sent a text to a volunteer fire chief two weeks ago saying "the place is going to burn."
If he's found guilty, Clark will spend the rest of his life behind bars.