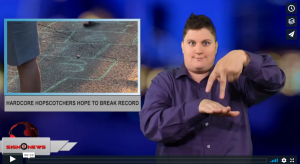 Sign1News delivers news for the deaf community powered by CNN in American Sign Language (ASL).
Transcript
A group of hard-core hopscotchers in Rochester, New York are trying to make it into the record books.
More than 700 people attempted to beat the previous record of 621 people playing hopscotch at one time.
The attempt will now need to be confirmed.
So only time will tell if the group's hops, skips and leaps of faith will pay off.
Good luck everyone!