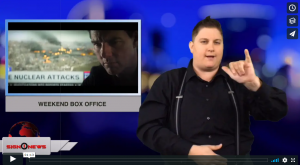 Sign1News delivers news for the deaf community powered by CNN in American Sign Language (ASL).
Transcript
Here's a quick recap of the top movies this weekend.
For the second week in a row, Tom Cruise's spy thriller "Mission Impossible: Fallout" took the top spot.
It hauled in $35 million, bringing its two-week total in the US to $125 million.
Coming in second place, Disney's "Christopher Robin," about a sad, middle-aged version of Christopher Robin who needs the help of his childhood friends Winnie the Pooh, Piglet, Tigger and Eeyore to emotionally rescue him.
It debuted with an impressive $27 million.
Lionsgate's action comedy "The Spy Who Dumped Me" starring Mila Curtis and Kate McKinnon finished third with $12.4 million.