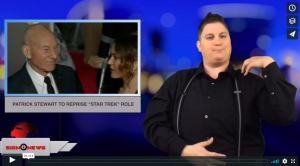 Sign1News delivers news for the deaf community powered by CNN in American Sign Language (ASL).
Transcript
Sir Patrick Stewart is returning to Star Trek.
He is reprising his role as Captain Jean-Luc Picard in a new series for CBS.
The show, which at present doesn't have a title, is not a reboot of Star Trek: The Next Generation.
But it is being described as a look at the next chapter of Picard's life.
Stewart confirmed his return to Star Trek Saturday during a surprise visit to a Star Trek convention in Las Vegas.
In a tweet he said he is excited and invigorated to be returning to the character.