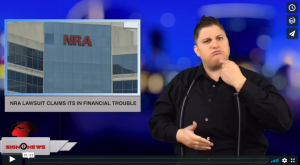 Sign1News delivers news for the deaf community powered by CNN in American Sign Language (ASL).
Transcript
The National Rifle Association (NRA) says New York regulators could leave the organization in serious financial trouble and it is pursuing court action in an attempt to stop them.
The lawsuit says New York is illegally attempting to coerce financial companies into ending business relations with the group.
Back in May, New York State authorities banned an NRA-branded insurance plan.
The "Carry Guard" program provided liability coverage for gun owners involved in shooting incidents.
New York said it could be used to cover deliberate acts of wrongdoing and declared it illegal.
The NRA's lawsuit says New York has violated his First Amendment rights.
It also claims New York is spearheading a blacklisting campaign that has left it unable to get corporate insurance coverage.
It says the NRA could be forced to close its headquarters, shutter its online media presence and stop holding rallies and conventions.