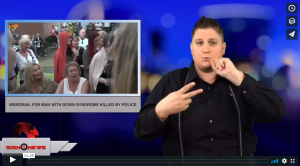 Sign1News delivers news for the deaf community powered by CNN in American Sign Language (ASL).
Transcript
Family members, friends and mourners of Eric Torell gathered in Stockholm, Sweden Sunday to hold a memorial in his honor.
The 20-year-old was shot killed by Swedish police Thursday after he was seen carrying a toy gun.
His mother says he had been diagnosed with both autism and Down syndrome and could not verbally communicate.
Torell's family had reported missing after he ran away from home, something he had been known to do before.
Torell's memorial included a motorcycle parade and a moment of silence.
People left flowers, cards, toys and candles at the place where he was shot.
His mother used sign language to sing along to his favorite song.