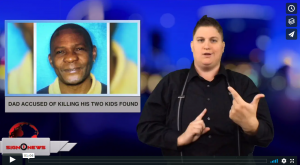 Sign1News delivers news for the deaf community powered by CNN in American Sign Language (ASL).
Transcript
Houston police say 62-year-old Jean Pierre Ndossoka was discovered in his car in Pasadena, Texas with a gunshot wound Sunday morning.
He is the man suspected in the fatal stabbing of his two young children.
His wound was not fatal and he was taken to the hospital.
The bodies of his children, an 8-year-old boy and a 1-year-old girl, were found in their beds inside the Ndossoka's apartment by their mother Saturday afternoon.
They had been visiting their father.
Ndossoka had called the children's mother to tell them he was going to kill them.
Police say Ndossoka and the mother are married but separated.
He's being charged with two counts of murder of a person under 10 years old.