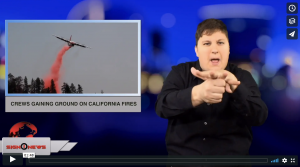 Sign1News delivers news for the deaf community powered by CNN in American Sign Language (ASL).
Transcript
Better weather today is helping the thousands of relentless firefighters battling more than a dozen massive fires in California.
In Shasta County crews battling the Carr fire are hoping the worst is over.
The Carr fire is the deadliest of the current fires and is now one of the most destructive in California history.
It's charred an area that's larger than the city of Denver and burned more than 900 homes.
The fire is still moving but is moving away from residential homes.
Meanwhile near Yosemite, the Ferguson fire continues to burn after 19 days of destruction, forcing officials to keep parts of Yosemite National Park closed until Sunday.
But here's a story of inspiration coming out of devastation.
A family whose home was destroyed by the deadly Carr fire made a surprising discovery Sunday.
Jerry Ogle was sifting through the rubble of his home when he found his grandmother's diamond wedding ring hidden among the ashes.
Ogle said after about a half hour searching the area where he knew he left it, he looked to the sky and asked his grandfather for help.
Thirty seconds later, he found the ring box.
While the band was damaged, the diamond appears intact.