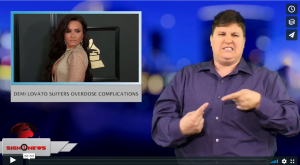 Sign1News delivers news for the deaf community powered by CNN in American Sign Language (ASL).
Two sources close to Demi Lovato tell CNN the singer is experiencing complications from her apparent overdose including nausea, vomiting and a high fever.
She is expected to make a full recovery but there is no estimate as to when she will be released from Cedars-Sinai Medical Center in Los Angeles.
Last week, a source told CNN that Lovato plans to seek drug abuse treatment following her release.
No information has been given regarding the official reason she was hospitalized.
There have been reports she overdosed on heroin but a source close to the singer denies that.