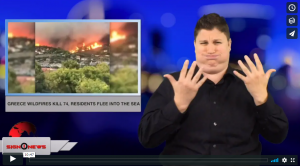 TODAY'S HEADLINES:
-Greece wildfires kill 74, residents flee into the sea
-Colorado severe weather causes flooding, power outage
-Police make arrest in bay area transit system attacks
-Trump targets security clearance of ex-officials
-Satellite imagery shows N. Korea dismantling nuclear site
-Prince Harry, Elton John launch AIDS initiative
-Pepperidge Farm recalls some goldfish crackers
-Officer helps homeless man shave, video goes viral
-Your dog will rush to help when you cry
FULL TRANSCRIPT
Hello everyone.
Welcome to Sign1News.
I'm Jethro Wooddall.
Here are your top stories for today.
Fires raging outside Athens have killed at least 74 people.
More than 150 people have been injured in the blazes, which are burning on three fronts in the Attica region.
Some residents say the flames are so intense, the only way to escape was to run into the sea.
Boats were mobilized quickly to rescue 696 people from the beach and 19 from the sea.
Rescuers also retrieve four dead bodies from the seat.
The wildfires are the deadliest to hit the country in nearly 10 years.
The country's prime minister is urging citizens to forget their property and run to safety as quickly as possible.
Here in the United States, heavy downpours have caused problems in parts of southern Colorado.
Flash flooding was reported in some areas, including Woodland Park.
People in affected areas were advised to seek higher ground.
The weather also knocked out power to hundreds of customers.
The rough conditions also caused delays at Denver International Airport.
Police have arrested 27-year-old John Cowell in the stabbing of two women on a train platform in Oakland, California.
On Sunday night police say Cowell, seemingly unprovoked, pulled out a knife and stabbed 18-year-old Nia Wilson and her older sister as they stood on the Bay Area Rapid Transit (BART) platform.
Nia did not survive.
Police chief Carlos Rojas described the attack as one of the most vicious attacks he'd ever seen.
Monday night someone riding a BART train spotted Cowell and police were able to take him into custody.
Also on Monday, nearly 1,000 people marched from the MacArthur BART station to downtown Oakland, holding a vigil for the Wilson sisters.
The community has been rattled by the attack because it's the third death in less than a week that resulted from an assault on the Bay Area's transit system.
Protesters fear the attack may have been racially motivated.
But Nia's family members urged for calm, asking for people not to jump to conclusions.
Police are still trying to figure out the motive behind Sunday's attack.
The White House is intensifying its war with the US intelligence community by announcing President Trump is considering stripping six former national security officials of their security clearances.
They are former NSA director Michael Hayden, former CIA director John Brennan, former director of National Intelligence James Clapper, former FBI director James Comey, former deputy FBI director Andrew McCabe and former national security adviser Susan Rice.
These are all Obama-era and Bush-era officials who have been critical of Trump's attacks on the intel community and the Russia investigation.
White House Press Secretary Sarah Sanders says they have all benefited politically and or monetarily by accusing the president of improper contact with Russia.
Former national security officials routinely maintain their security clearances after they leave office, partly so they can counsel their successors on classified matters.
Sanders would not say when the president would make the final decision to strip the six of their security clearance.
There are reports of what could be a crucial development in the ongoing nuclear negotiations between North Korea and the US.
A monitoring group says satellite images show Pyongyang has started to dismantle some parts of a key missile test site in the country's Northwest.
A nuclear expert with the monitoring group believes this is an important first step towards fulfilling a commitment made by North Korean leader Kim Jong Un during his summit with Trump in Singapore.
Today Prince Harry and Sir Elton John announced the launch of their new Menstar Coalition at the international AIDS conference in Amsterdam.
The global partnership is aimed at researching and halting male transmission of HIV infections.
The program has a goal of ending AIDS by 2030.
While at the conference Prince Harry also sat down with young advocates to discuss issues faced by teenagers who have the disease.
Harry attended the conference on behalf of Sentebale, a charity he co-founded over a decade ago that works to help HIV-infected children in Africa.
The Prince carries on in the footsteps of his mother Princess Diana who was also an advocate for HIV and AIDS research.
Goldfish crackers, a popular snack for kids, is being recalled by Pepperidge Farm.
The company says there's a chance the products may be tainted with salmonella.
The four kinds of goldfish affected by this recall are: flavor blasted extra cheddar, flavor blasted sour cream and onion, goldfish baked with whole-grain extra cheddar and goldfish mix extra cheddar and pretzel.
No related illnesses have been reported.
Earlier this week Tallahassee, Florida police officer Tony Carlson lent a helping hand and a razor to a homeless man named Phil.
Officer Carlson shaved the beard of the man who wanted to clean up his appearance for an upcoming job interview.
Passersby noticed the act of kindness.
One person took a video of it and posted it on social media.
The video quickly went viral!
Phil said he is hoping to get hired at a local McDonald's.
Officer Carlson said he wished he could've done more but in between calls for service, that's the best he could do.
A new study is proving dogs really are man's best friend.
Researchers found that dogs can tell when their owner is in need and they move quickly to help.
The study says dogs get to their owners faster when they make crying sounds rather than when they hum a tune.
About 30 dogs were part of the study so the data is limited.
But the study could shed light on what influences canines to rush to help their human companions.
The findings are in the latest issue of "Learning and Behavior."
I personally have a great example.
A few days ago I tripped and fell.
When I cried out in pain, my dog Jahlan came right over and started licking me. It was so cute!
What do you think of the study? Do you believe dogs know when you're sad?
And those are your top stories for today.
I'm Jethro Wooddall.
Thank you for watching Sign1News.
Remember to like us on Facebook and follow us on Twitter.
Sign1News. Your life. Your language.