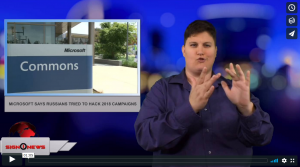 Sign1News delivers news for the deaf community powered by CNN in American Sign Language (ASL).
FULL TRANSCRIPT:
A Microsoft executive says Russian intelligence operatives tried to hack into the online accounts of campaign staffers in the upcoming midterm elections.
This is the first public acknowledgment of a Russian attack on a 2018 race.
Tom Burt, Microsoft's Corporate Vice President for customer security and trust, said earlier this year Microsoft detected a fake domain likely used as part of phishing attacks.
Burt did not identify which campaigns were targeted.
He said Microsoft took down the site and prevented the victims from being affected.
Recently the US government has accused Russia of hacking campaign staff emails during the 2016 presidential race.