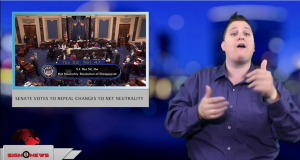 Sign1News delivers news for the deaf community powered by CNN in American Sign Language (ASL).
TODAY'S HEADLINES;
-Trump Tower transcripts released
-Rapper T.I. arrested
-Senate votes to repeal changes to net neutrality
-Family reunited after 31 years
-Smithsonian unveils portrait of Henrietta Lacks
-Scientists train spider to jump on command!