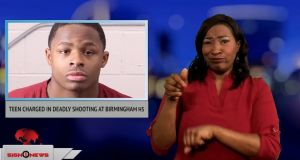 We have an update on a story we first told you about earlier this week on Facebook live.
On Wednesday, two shots rang out Hoffman high school in Birmingham, Alabama.
One student was killed, another injured.
Investigators initially said the shooting was an accident.
Police have now charged 17-year-old Michael Barber with manslaughter.
After reviewing video of the shooting and interviewing students, the charges were upgraded to manslaughter.
Prosecutors say Barber will be tried as an adult.
The incident was the 14th school shooting in the US this year.