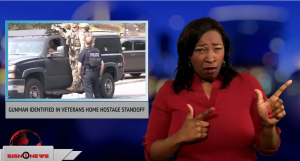 Police say three people were killed at a military veterans home in Northern California on Saturday.
Police say 36-year-old Albert Wong barged into a going away party with a rifle and started shooting.
Dozens of law-enforcement officials responded to the 911 calls.
Wong refused to leave the facility and held several people hostage.
After six hours of negotiating, police eventually stormed into the room.
They found Wong and three hostages dead.
Police later learned Wong was a former patient at the facility.
He left two weeks ago.
Authorities have not given a motive for Wong's actions.