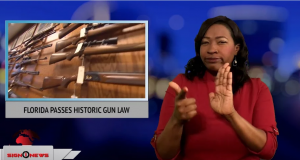 Three weeks after the Florida high school massacre, the state passed gun-control restrictions into law.
Under the new law you must be 21 to buy a gun.
Buying or possessing bump stocks is illegal.
And law enforcement has more power to seize weapons and ammunition from those deemed mentally unfit.
A controversial portion of the law allows some teachers to be armed but only if the local school district and Sheriff's Department agree.
What isn't included in the legislation is an assault weapons ban.
The law is named after the school where a 19-year-old opened fire and killed 17 people: Marjory Stoneman Douglas high school.